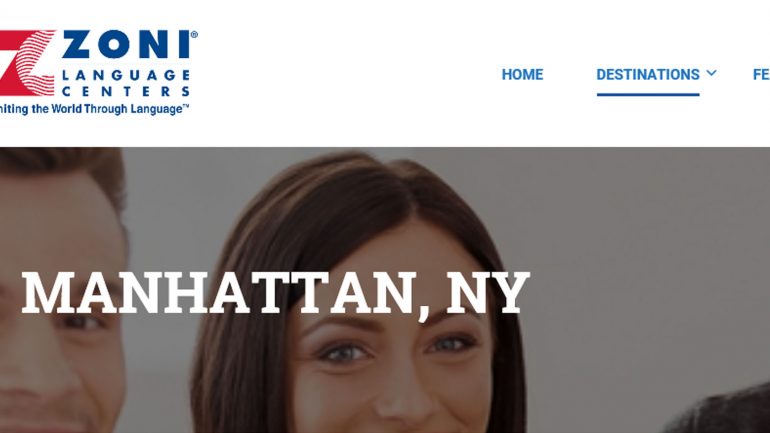 เรียนภาษา Zoni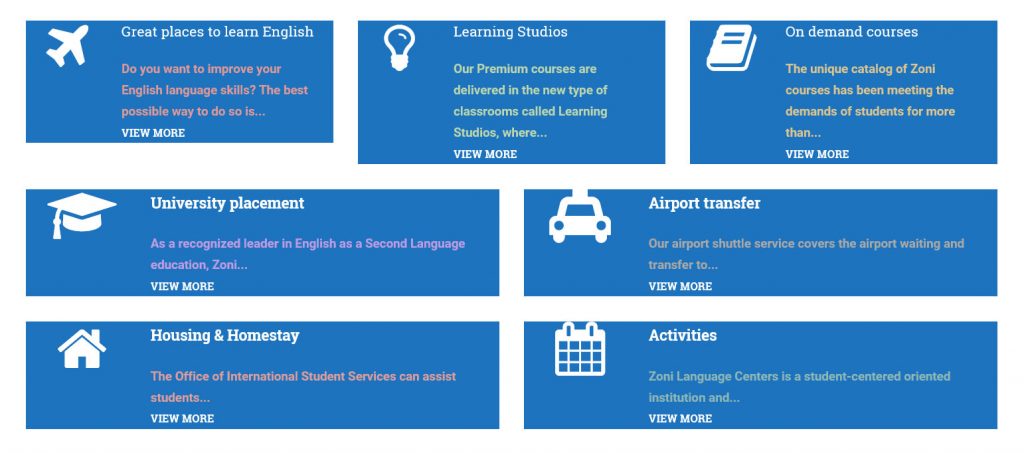 เรียนภาษา นิวยอร์ก Zoni Language Centers
สถาบัน Zoni เป็น 1 ในผู้นำ ในการเรียนภาษานานาชาติ ซึ่งสถาบัน Zoni นั้นนอกจากจะมีการสอนในบริเวณตัวเมือง New York แล้วยังมีที่ Miami ใน Florida อีกด้วย สถาบัน Zoni ได้รับการยอมรับจากกระทรวงศึกษาธิการประจำเมือง New York และสถาบันว่ามีคุณภาพการสอนที่สูง ตั้งแต่1991 นอกจากนี้สถาบัน Zoni ยังมีหลักสูตรพิเศษที่ตอบโจทย์ความต้องการด้านภาษาของนักเรียนอีกด้วย วิทยาเขตหลักของสถาบันนั้นตั้งอยู่บริเวณที่สะดวกสบาย ตรงใจกลางเมือง Manhattan ย่าน Midtown ติดกับตึก Empire State และเดินไปไม่ไกลนักยังตึก Time Square ซึ่งใกล้กับสถานที่สำคัญ ทั้งหลายในเมือง New York นอกจากนักเรียนจะได้เรียนรู้ภาษาอังกฤษจากสถาบัน Zoni แล้ว นักเรียนยังจะได้เรียนรู้วัฒนธรรมและภาษาจากเพื่อนร่วมชั้นหลากหลายเชื้อ ชาติ สถาบัน Zoni มีหลักสูตรที่มีความยืดหยุ่นตามระดับภาษาอังกฤษของน้อง ๆ ซึ่งมีหลักสูตรตั้งแต่ Beginner ไปจนถึง Advance และยังมีหลักสูตรเฉพาะทางให้กับน้อง ๆ อีกด้วยจ้า สถาบัน ZONI ตั้งอยู่ใกล้กับตึก Empire หรือ 5 th Ave ตัดกับ w34th Street ซึ่งอยู่ใจกลางเมือง New York แบบสุดๆ ค่าเรียนจัดว่าถูกมากๆ ราคาค่า เรียนภาษา
ZONI – Manhattan, NY
สาขาอื่นๆ  Zoni
ZONI – Brooklyn, NY
ZONI – Jackson Heights, NY
ZONI – West New York, NJ
ZONI – Miami Beach, FL
ZONI – Flushing, NY
ZONI – Elizabeth, NJ
ZONI – Passaic, NJ
โปรโมชั่น ฟรีใบสมัคร เเละส่วนลดค่าเรียน 20%
หลักสูตร
ระยะเวลา
ค่าเรียนราคาโปรโมชั่น (บาท)*
New York
Intensive English  (20 คาบ / สัปดาห์)
3 เดือน
97,650
6 เดือน
187,488
12 เดือน
374,976
**Update 01/01/2018
คอร์สเรียน
Our Zoni Premium Intensive & Semi-Intensive English offer an approach to language instruction which integrates four key skills: speaking, listening, reading and writing. Specific courses under these programs also include the incorporation of pronunciation, vocabulary building and conversation activities using grammar in context. Extra-curricular academic activities such as field trips and film showings are provided to enhance and reinforce English proficiency outside the classroom. With a choice of schedules, students can build class time around their own interests. BEGINNER COURSES to ADVANCED ACADEMIC COURSES
Differences between Exams: Many students choose Zoni Language Centers to prepare for the TOEFL, IELTS and Cambridge Exam Prep for the following reasons: • Exceptional preparation courses with experienced instructors • Multimedia lab – exam preparation courses are conducted in our modern computer labs • Flexible schedules • Zoni New York and Miami Beach campuses are both authorized testing centers for the TOEFL IBT and Cambridge ESOL examinations TOEFL iBT Test and Preparation course: Zoni's TOEFL preparation course focuses on strategies for effectively taking the exam, including an emphasis on listening and reading comprehension, grammar, vocabulary and writing. Our course format and actual test-taking process have been modified to adapt to training, and students will be well-prepared to take the official iBT test. Our TOEFL Preparation course is conducted in the Multimedia Learning Center. Cambridge ESOL examination Preparation course: Zoni's Cambridge preparation program is designed to prepare students to achieve their goals towards successfully passing the Cambridge exams: First Certificate, Advanced or Proficiency. Our preparation provides a complete review and development of all the skills that relate to the examinations. Complete papers are practiced under exam conditions and feedback is given to students. IELTS Test and Preparation course: The International English Language Testing System (IELTS) preparation course helps learners develop detailed knowledge of English skills and strategies needed for success to pass the IELTS exam and other English proficiency tests. It focuses on improving academic English as well as the linguistic aspects of the course. There are four parts to the IELTS exam: Listening, Reading, Writing and Speaking. Students can take either of the two formats: Academic or General. Test Type of English Purpose Administered by different testing centers around the world.
This is a one- on- one
or group
course
designed for advanced proficient level students who would like to master all ESL skills such as Reading, Writing, Speaking and
Listening including sub skills such as pronunciation, vocabulary and grammar. It is for graduate students and professionals who need a more intensive preparation for graduate studies as well as for career growth.It presents a variety of academic topics such as Anthropology, Poetry, Economics, Ecology, Business, Work place and other areas appropriate to their professional needs. It provides an integrated approach to language acquisition.
Our ESL for Business English Course, a total of 12-weeks program with 4 weeks of each module. It is designed to prepare students to succeed in business and increase their knowledge of international business. It enhances your communication skills in business situations, acquire business terminologies and written business communication skills.
โรงเรียน อื่นๆ