Employment opportunities for students in Chicago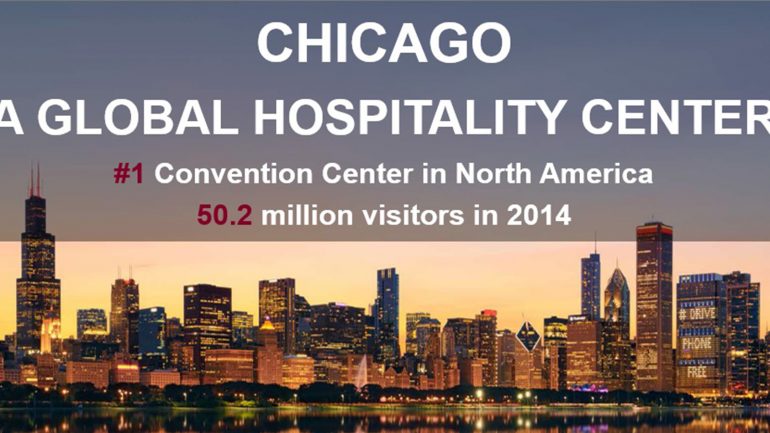 Chicago offers an incredible variety of unique venues and attractions along with elite services, as well as unmatched entertainment options and a Michelin-rated dining scene. McCormick Place is now the largest AND most customer-friendly meeting and convention center in the United States. Chicago has been named the Fourth Best City in the U.S. and Canada (Travel + Leisure, 2013), Top City Break Destination (Frommer's 2012), Best in Travel – Top 10 Cities (Lonely Planet, 2014).  (From Choose Chicago website).
Situated in the center of the USA, Chicago is easy to travel to from virtually anywhere.  You and millions of visitors can get to Chicago via to thousands of flight options, six class-one railroads, a vast network of major highways and a wide variety of airlines.  Chicago is culturally diverse – city of neighborhoods.
CAREER SERVICES
Internship, Optional Practical Training, and Job Placement
7 Career Counselors with 10+ years of industry experience

More than 100 companies visit campus each year

Two semi-annual career fairs featuring 30+ employers

Professional Development Courses in preparation for internships and interviews

Alumni relations services, including access to our online job database featuring positions throughout the world

International students are eligible to work on campus 15-20 hours per week ($11.00 per hour)  
FALL INTAKE: 4th October 2017
REGISTRATION DEADLINE: 20th September 2017
WALAIPORN PAORIK – Representative in Thailand
E-Mail :: walaiporn.paorik@kendall.edu
Mobile :: +66 83-051-6888 , +66 99-112-8599
G. Floor, Sethiwan Tower, 139 Pan Rd., Silom, Bangrak, Bangkok ,10500